Coordinating everyone is a doozy for family photos – those ones with all the aunties, cousin and grandparents. I shoot lots of extended family photos in Melbourne – there's no shying around the fact that getting a whole bunch of people on the same page is difficult – but you know that extended family photos are exactly what your mum wants and really – kinda what you want too. These shoots are often really important for families as grandparents age and generations extend out, as you have kids and your siblings have kids. Celebrating togetherness is crazy important.
These kinds of shoots give everyone a chance for some photos with their own immediate families and throws focus on those super important relationships that rarely get photographed – such as grown up siblings or parents and their adult children. Plus, those endless gifts for Grandparents are a real perk! Extended family photoshoots make amazing gifts and I often do these as vouchers so they can be given on the day and organised later on.
Coordinating a date for a family shoot
Coordinating a date can be tricky. I suggest getting a little bit of an idea of when typically works for your family members (eg. flag that Saturday morning sport as a no-go zone) then check in with my availability – after that I'll give you a few date options to work with and we hold those for a little bit until you find a date. My own extended family uses things like WhatsApp and Signal to do group communication – it works well!
Once we've got a date you're really most of the way there!
Then, oh crap – the shoot is coming up. You want everyone to feel themselves but also want to be vaguely coordinated. Someone is asking what to wear and you don't know what to tell them…
What do we wear?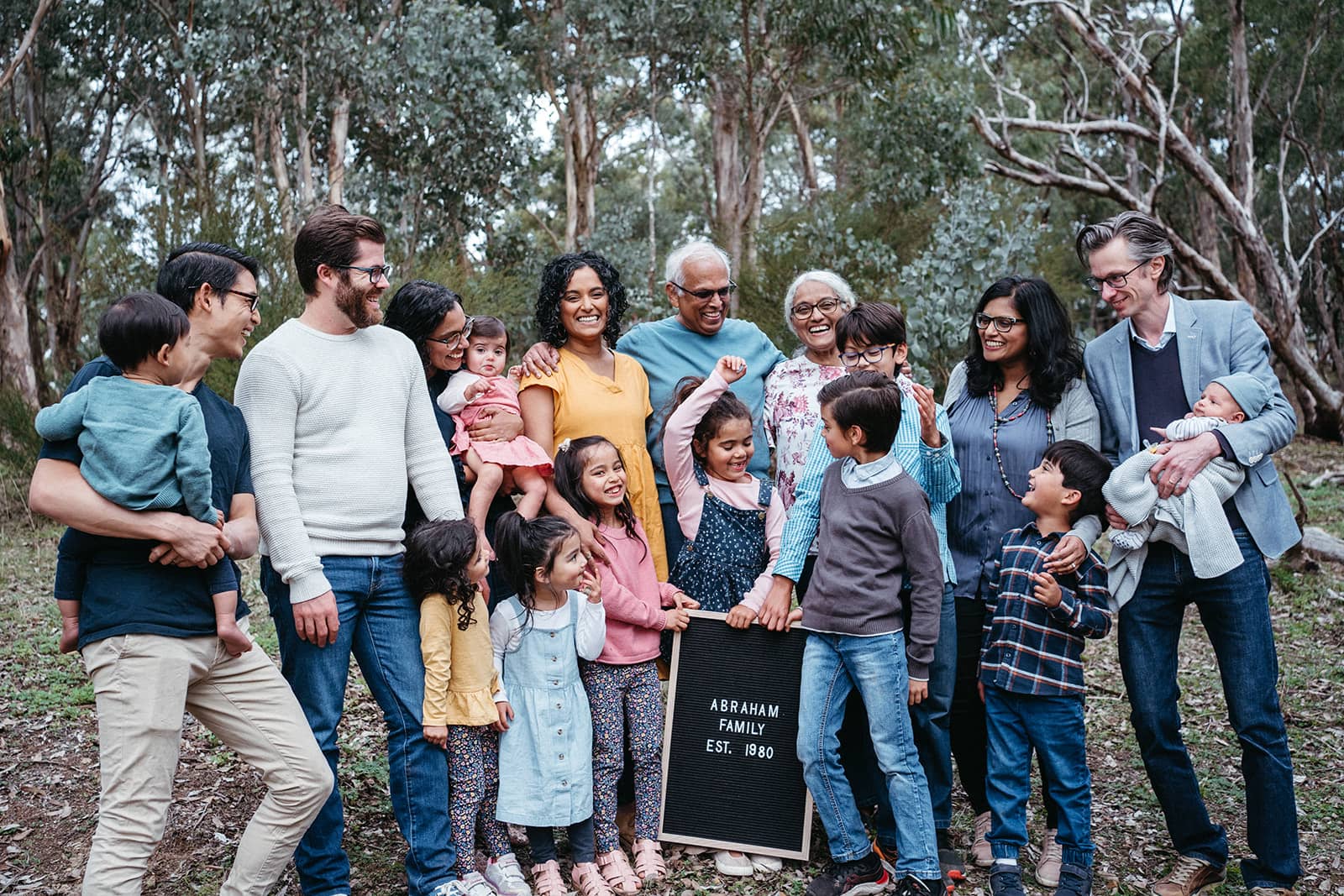 You don't have to coordinate. There are no rules. I've shot perfectly fantastic family session before where everyone was given free rein. BUT.
You do feel some pressure, this doesn't happen often and you'd like it to look nice on the wall.
If you are feeling like you need some direction (because no doubt someone WILL be asking) Pick some colours! This could be two or three or five (this could be blues and rusts and neutrals for example) this gives scope for variety – a few base colours and maybe an accent colour that just features once or twice. You can ask everyone to stick in the same tonal range – eg. all pastels/all brights/all neutrals or all more subdued colours – take clues from the season of your shoot, your location and your family personalities. Giving some guidance but leaving some scope for individuality is really helpful – no one should feel like they have to go buy new outfits just to match in. Also decide the level of formality you want – this is so you're on the same page – are you dressing up a bit? Keeping it casual? Keeping it super casual?
Texture! Chunky knits next to something plainer is great! Wear scarves/necklaces/fun things if that's you (although hats can hide faces and leave marks on heads!).
Don't match.
Here's the next tip. Don't match. That all jeans/white tshirts thing is NOT cool – maybe it was back in the early 90s (which probably means it'll resurface soon hehe) but keeping some visual variance is really helpful, your images will look a lot better and more balanced. Plus you wont be all clones.
I also feel like the jeans/tshirt equivalent these days is all white. Just don't. Differentiation will help your images immensely – all one colour and you'll just blend in.
Visual distractions
Other things I've seen and just to be mindful of are – kids shoes. Some kids shoes are super bright – like fully bright yellow sneakers. This is fine BUT if no one else is wearing yellow shoes then your eye when you look at your final images will be drawn down to those feet consistently. Also as with most shoots it's a great idea to avoid words or big brand names on tops or character/images prints, this is again mostly about visual distraction not about avoiding or creating a certain look (from where I am – I honestly don't ultimately care if you are fully themed out if that's your thing) but I do want to be featuring your faces and your connections with each-other – not your shoes.
A good side tip is to try to avoid many of the same types of strong patterns – eg. two people wearing polkadots can be a little confusing when you stand together. Or too many stripes. You get the idea!
Other things to make your extended family photos in Melbourne extra great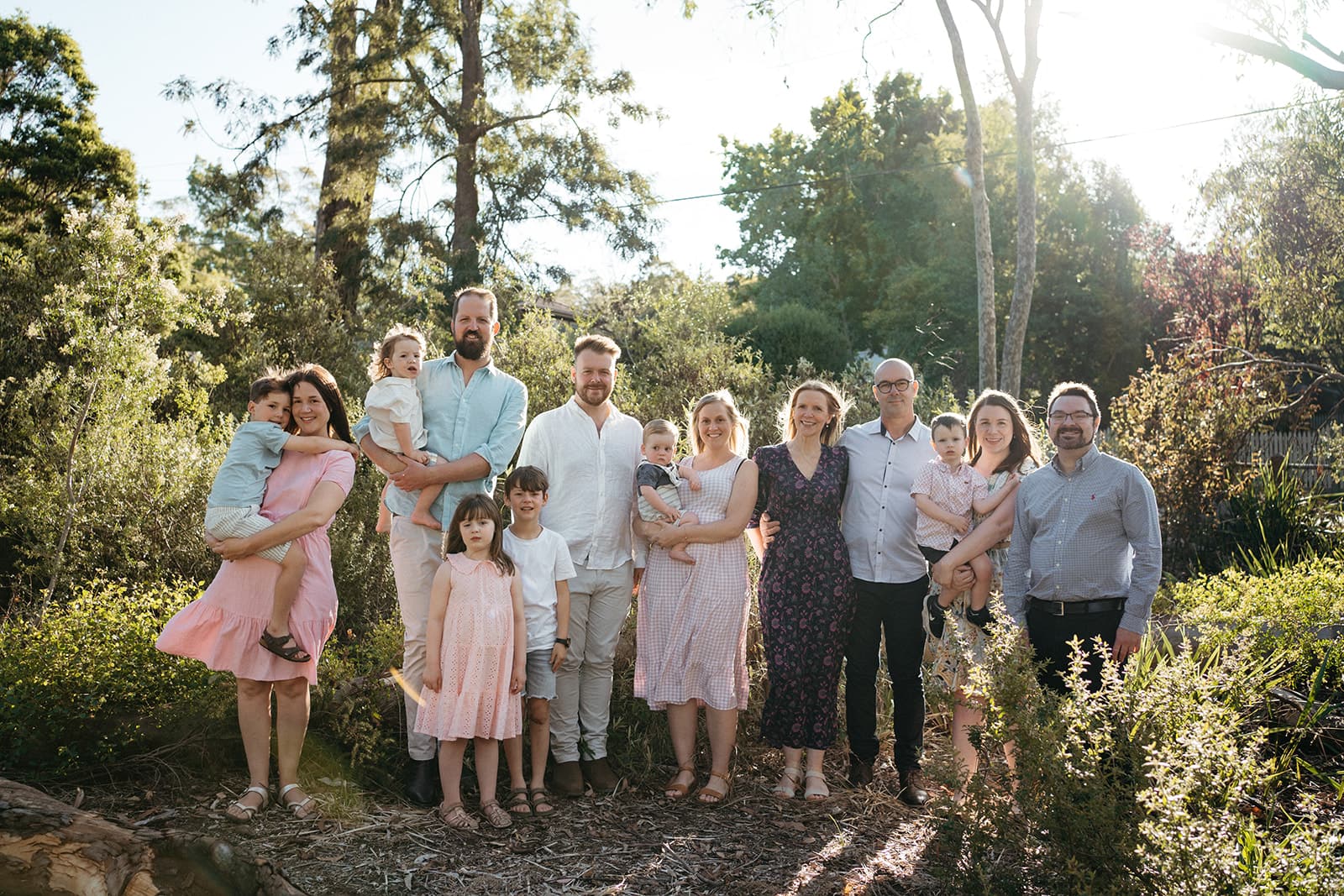 Feed the kids. Always always always feed the kids before a shoot.
Feel good in what you're wearing but also feel comfortable.
Don't wear something that is not 'you'. Photos are about memories of people. If you're a pants kinda person don't feel like you should wear a dress.
Listen to your photographer on advice about location and shoot timing for your extended family photos in Melbourne. Time of day is really important for photography and with family shoots – unlike with weddings where things have to happen when they happen – we can call the shots. Using early or late light is more flattering and easier to work with especially with a big group.
Remind your people this is just one hour of their lives and it will make Grandma REALLY REALLY REALLY happy. Plus it wont be too hard, I'll make you walk and talk and laugh.
Enjoy being together, make the most of the time and plan to hang out afterwards, have lunch. Have your shoot while you're having lunch! There's no specific way you have to do a shoot – we can mix those posed group shots with sitting around a BBQ or a game of cricket. I've shot a family in a mechanic shop before because it was meaningful to them.
And guess what, my extended family photos in Melbourne don't just included these posed groups shots. You get LOTS of wonderful portraits and formal and informal groups. Check out a family session in full here.
Think this sounds great? Feeling up for the task of gathering your people? You've got this!