What to wear for your family photos
A Practical Guide - What to Wear for Your Family Photos
As a photographer, I can't stress enough the importance of authenticity in your family photos. Your portraits should capture the genuine essence of your family – who you are right now, in this moment. But let's face it, figuring out what to wear for a family photoshoot can be a bit overwhelming.
Why It Matters - Dressing Authentically for Your Family Photoshoot
When you're comfortable and confident in your clothes, it will help you to feel more yourself in your photos. Why? - because your focus falls away from how you look and allows you to lean in to being present with your family. Trends may come and go and who you are at this time is much bigger than what you are wearing. There is no need to splurge on fancy clothes you'll only wear once. Instead, focus on being yourself. If that means jeans and a t-shirt, go for it. Even if your family's style doesn't perfectly match, that's perfectly fine – embrace your individuality.
A Dash of Realism - Addressing Challenges
Let's be real – choosing the right clothes can feel tricky. Sometimes you just want clear direction, or maybe you have one outfit nailed down but struggle with coordinating the rest. I get it, I've been there too. Dressing your family for a photoshoot can feel like a puzzle but there are some tricks to help put the pieces together.
Simplicity and Sustainability - The Foundation of Your Wardrobe
Before we dive into the fun part, remember this golden rule: simplicity is key. Your family is beautifully unique, and your outfits should reflect that. Shop your own closet first – you might be surprised what you already have. By doing so, you not only create a genuine look but also contribute to a sustainable approach. Let's show some love to our planet.
1. Dressing Authentically - Let Your Family's Personality Shine
When it comes to clothing choices, ensure that each family member wears something they feel comfortable and confident in. For instance, if your family loves keeping things casual, consider jeans, cozy jumpers, and simple t-shirts. If you're a more formal bunch, it's okay to opt for dresses and shirts. Do keep in mind that finding a balance of similar 'style' is helpful - if one person show up in a suit and the rest are wearing in jeans, this can feel a little odd.
You'll often see lots of neutrals on photographers instagram feeds. This is because honestly it's easy to work with these colours and you may be encouraged in that direction (I certainly wont encourage you away from them!). BUT maybe you like bright clothes or fun patterns? Not everyone identifies with 'sad beige' (If you don't know what I'm talking about check this out!).
If so, WEAR bright colours! Don't be afraid of wearing a pattern - it's okay, and its' not going to ruin your photoshoot - you can temper it with some plainer items if you want and/or pick up on colours in what others are wearing.
Below is a mum's patterned bright dress, with a fairly neutral partner, some kids clothing here with some interest that ties back into the parents and the deeper green stripy top is balanced by the punch of the navy jeans. Make links! Keep your tonal range connected.
2. Coordinating Colours - Achieving Unity Without Uniformity
Coordinate your family's outfits with a colour palette that suits your personalities. The example below might be from a summer evening session for a family who wants to dress up just a little more but doesn't want to be too out there: here are shades of blue, cream, and soft beige with an accent colour of the green which is in same tonal range and also there is some contrast with lights and darks to help things not feel too matchy. This all works together to create a coordinated yet diverse look. Ps. that old adage: 'blue and green should never be seen' is from old seafarers days so your boat wouldn't blend into the waves - that does NOT apply here. We experience blues and greens in nature all the time and they're totally wonderful together.
Differences in colour also help you not to blend together in a photo. If mum and baby are both in white it is harder to distinguish where one person starts and ends. Break it up.
3. Embracing Texture: Adding Dimension
Incorporate texture to create visual interest without complicating your outfits. Think about a Dad wearing a shirt over a plain tee, while a Mum opting for a knitted jumper and a skirt. Kids could wear corduroy pants or a layered dress, this can add depth while maintaining comfort.
4. Dress Appropriately for the Weather
There is nothing like that sinking feeling I get when I'm about to start a session and a family has just rocked up on a coolish evening and their girls are in super thin summer dresses. Your kids moods are WAY WAY more important than your expectations of a certain clothing item not quite lining up with the weather Melbourne throws at you. It might feel hard to change, but you can find a way around it! Layer up - a warm layer underneath or bring a jacket. Cold kids are not happy kids, it hampers everyones experience and adds unnecessary stress.
5. Avoiding Distractions - The Beauty of Simplicity
If you need easy, this is where it's at. Simple. Plain colours with a few minimal textures. It's a great idea to steer clear of logos that could detract from the emotion in your photographs. It's not a hard and fast rule, but our eyes go straight to words and sometimes words get cut off in awkward places (A friend quotes the example of a t-shirt with the word Saturday obscured by a jacket leaving the word 'turd' in view... oops). You can definitely opt for uncomplicated plain colour pieces add difference with some texture. This minimalistic approach ensures that focus remains on genuine connections captured in the images.
6. Accessorise Thoughtfully
There are a few things to consider with accessories - will the item fall in someones face when you go to hug them? This could be long necklaces or scarves. Will it obscure or shade your face - I'm not opposed to a hat (some people live in hats) but do know that this will cast shadows and might be a better option for just 'some of the time', beanies or bows on babies can slip down too and obstruct beautiful moments and details, likewise big collars or frills can flip onto kids faces. If you are a glasses wearer. WEAR YOUR GLASSES (I would feel not right without mine). But if you wear transition lenses and happen to own non transition lenses, please wear those instead so I can see your eyes! (If you don't have another pair please don't go without your glasses!).
A quick note on shoes! It's worth considering your location when you choose what to wear on your feet. Beautiful leather shoes at the beach might not fare so well with sand and water how about bare feet? Boots or flats might be smarter when you're tromping through bushland, your kids might not handle scratchy grass with open shoes. Be smart don't forget about where you'll be both what feels appropriate and is practically suitable for your location!
""You've captured our little family in such an effortless, fun and timeless way.""
Real examples - Why do certain outfit combos work?
Brights, pastels, neutrals, darks, autumnal tones, primary colours, mix and and match - Bring it. But it's the most helpful to see some real world examples and look at what makes these combos work. I'm no fashion expert (that's actually quite laughable) - but this is me wearing my photographer hat reflecting on why I think the below sessions with my real clients have worked.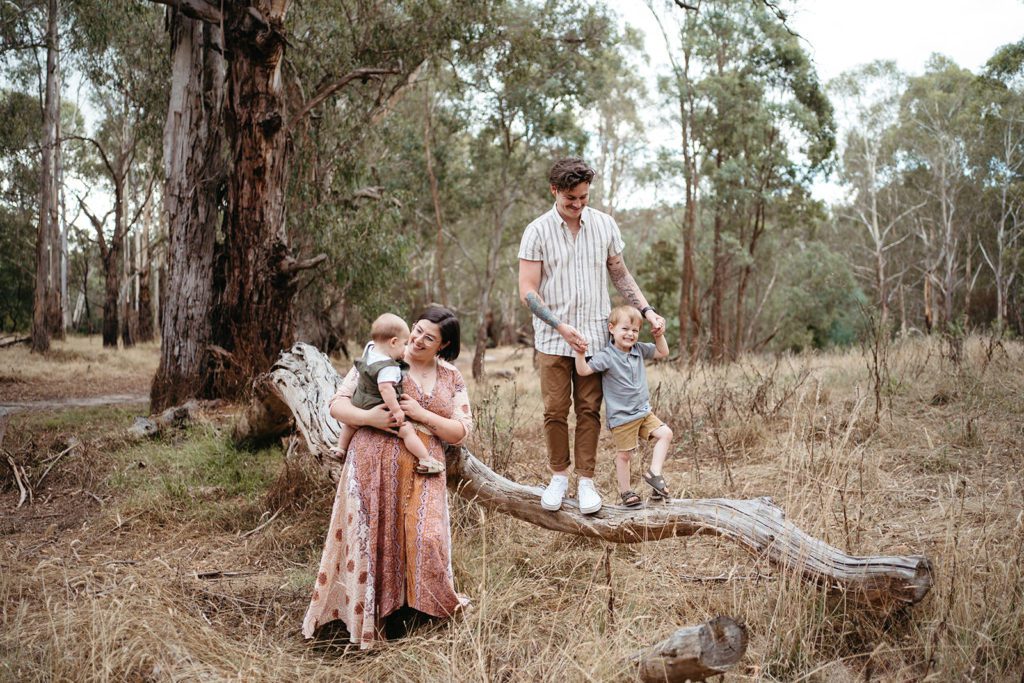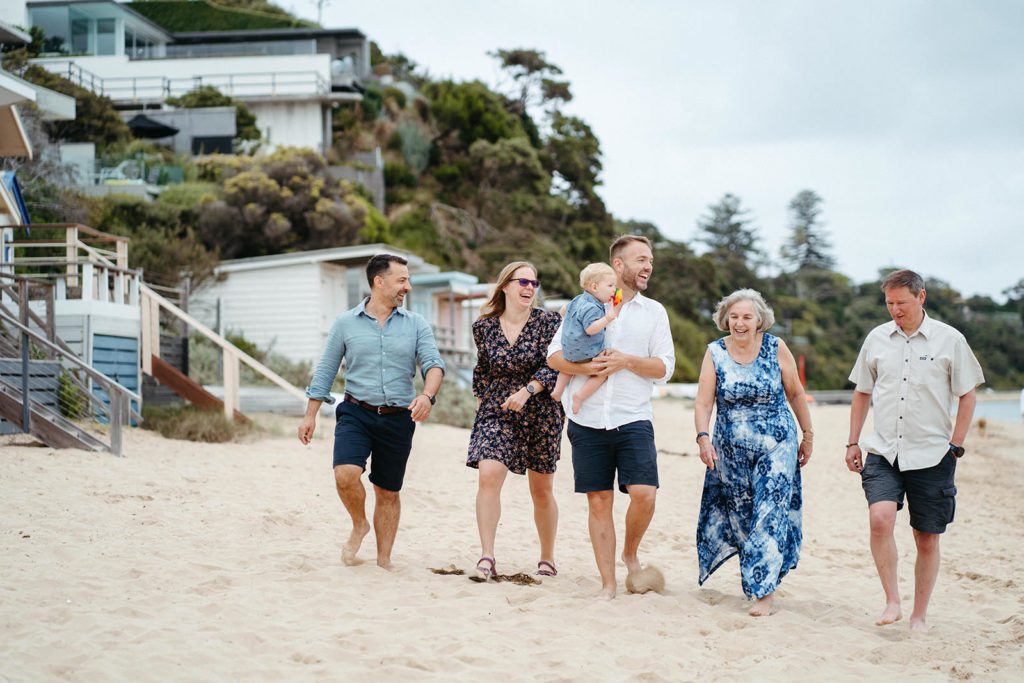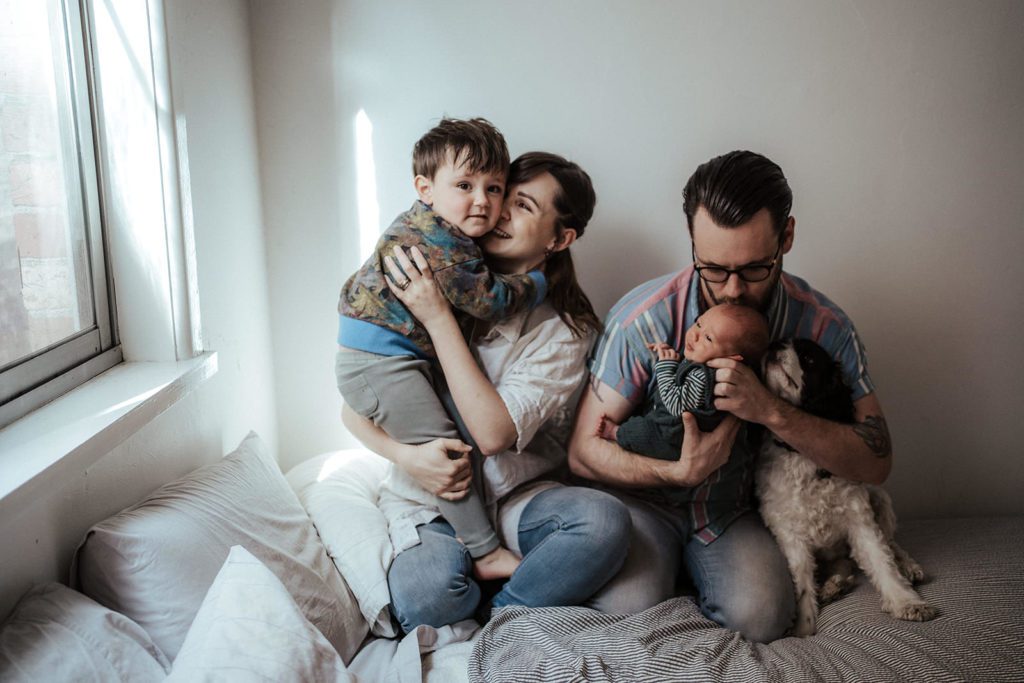 Be brave - wear what makes you feel good and feel like you!
Remember, your family's individuality is the heart of your photoshoot. Embrace who you are and make your clothing choices based first on what feels true and right. Whether it's brights, neutrals, patterns, or textures – the goal is to create a collection of outfits that genuinely represents your family.
And of course, I'm always happy to answer wardrobe questions prior to sessions and offer advice if you get stuck, you can send me photos of your wardrobe conundrums and I'll do my best to help!
BONUS...but what about Spiderman?
I asked my clients what are the big ticket questions were before I wrote this post.
"How do you bribe a child to wear something other than Spiderman?"
In my experience - which has included no less than Buzz Light Year Cuffs, character t-shirts and soft toys or bags (A definite accessory for a 3 year old) and even a plastic section of a plumbing... at the end of the day the answer to this comes down to: What are you as a family happy to have in your photos?
Is your child so utterly obsessed with Spiderman that would including something of this really be so bad? Could you offer to have a special Spiderman photo at the end (I can definitely do this, bring the item along in the car!)? Maybe said item could ride on or in 'that nice photographer lady's bag?'. Or you may offer to get some kind of new Spiderman item as a reward for being in your photos sans Spiderman (you did mention bribes after all - that's your prerogative as a parent!)? Is ice-cream all it takes? I am personally not bothered by items that don't adhere to a certain 'polished look' - photography after all is about preserving your families true memories.
If this post was helpful, I'd love you to share this with a friend. Book a session with me or stash this away for future reference. Clothing should never hold you back from from booking photography. Show up as you are. Let me do the work of bringing things together.
If you're looking for the post on what to wear for an extended family session, you can find that here.